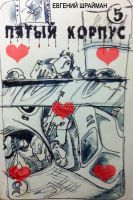 We got authors from far and wide using BookBarista! Have you read, Пятый Корпус by Eugene Shrayman?
Description: The action of this fascinating political thriller unfolds on the backdrop of an environmental disaster threatening the life of the capital of the Eastern European states. Thereafter, Prosecution office investigator Julia Lavrentsova received an audiotape with evidence of the leader of the country being indirectly guilty of the tragedy. Sacrificing personal happiness and career, the young woman decides to open challenges and secrets against the all-powerful system.
Действие этого увлекательного политического триллера разворачивается на фоне экологической катастрофы, угрожающей существованию столицы восточноевропейского государства. Пожертвовав личным счастьем и карьерой, молодая женщина решается на открытый вызов всесильной Системе. Юлия прекрасно понимает, что в обличии коррумпированного премьера она встретила противника, который, если надо, не остановится ни перед чем. Но пути назад у нее уже нет…
Eugene Shrayman has written several other books as well. They can be found at Smashwords.
Check out his books sometime. Russian language thrillers sound pretty awesome!
Mike